Transgender Voice and Communication Services
Transgender voice modification is the process of developing a healthful and authentic voice. This helps strengthen gender identity and self confidence. The goal of transgender voice modification is for the client to improve quality of life by discovering their authentic voice. Goals and methods are personalized to meet each client's individual goals. The most important part of the process is that clients are happy with their voice.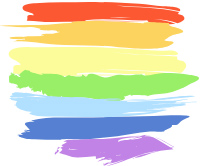 Schedule your free consultation with a therapist.  Try it out before you use our services.
All consultations and sessions are online via a secure teleconferencing platform.  Working with Monica would first involve a thorough intake and vocal analysis.  She utilizes both objective analysis via instrumentation and perceptual analysis to develop a voice and communication program based on each client's personal needs and goals. As a voice specialist, Monica has a wide variety of clinical and performance-based approaches to foster the development of an authentic voice for transgender clients.  After setting goals together, the training and practice work would begin.  She provides exercises, digital materials, real-life practice suggestions and objective feedback to help clients reach their personal communication goals.
Target areas for transgender voice modification
Monica also works with clients to also improve vocal hygiene and take care of their voice. Training with a voice specialist allows clients to learn how to correctly modify use of the voice mechanism without causing strain which may lead to future voice problems.
Benefits of Transgender Voice Modification
When is the right time to begin voice modification training?
Clients from all stages of transition benefit from training. We offer a free online consult for questions and discussion of your specific voice. Click on "schedule session" above or you may send questions via our contact form.
Please reach out to us with any questions you have and our therapist will get back to you. Thanks for taking the time to look us up and we hope to serve you soon.